Ethereum saw a significant increase in the number of unique users on its network in the third quarter.
Data from Dune Analytics showed that Ethereum gained over 4.5 million new active users in the third quarter. The growth breaks the trend of steady decline in users the network has been facing since the fourth quarter of 2021 when ETH's price rose to its all-time high of $4,890.
The 4.5 million new users represent a 36% increase in its active user base, showing that the ongoing bear market did little to curb interest in Ethereum.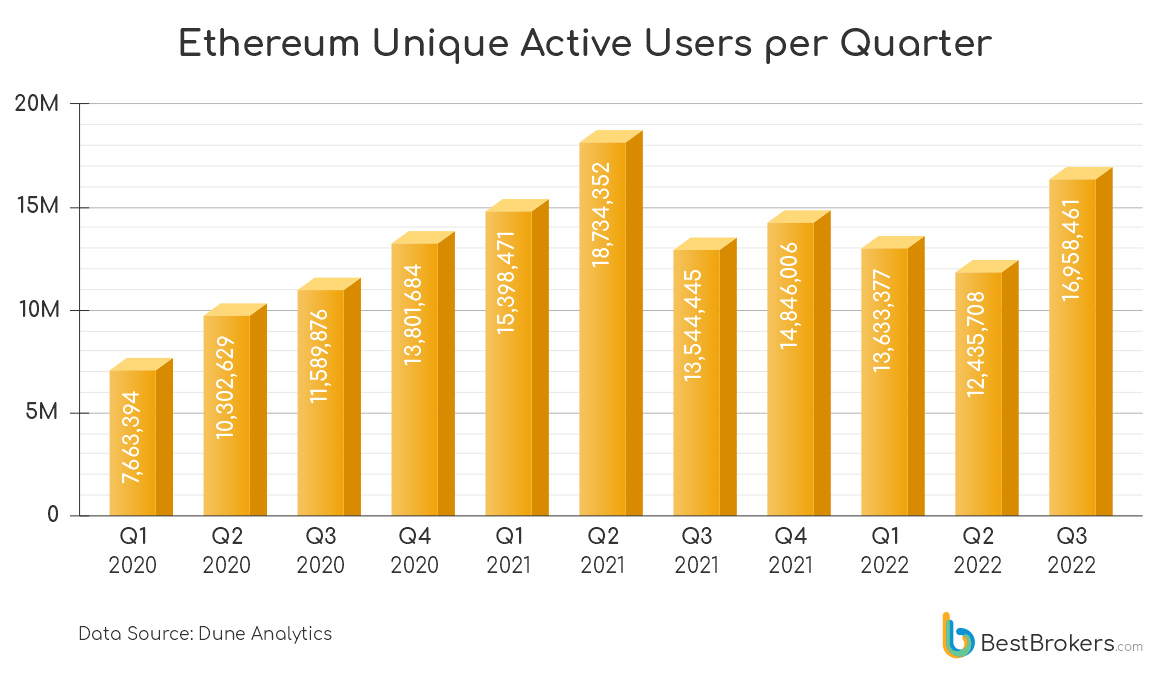 Alan Goldberg, an analyst at BestBrokers, said that the long-anticipated Merge certainly brought more interest to the Ethereum network but isn't the only factor that caused such a significant rise. Goldberg notes that the Merge was completed so late in the third quarter that ly wasn't the only reason the network saw the uptrend in active users:
"Other factors have to be taken into account, including the fact that people actually find cryptocurrencies as an investment option and the record lows of the third quarter of 2022 seemed like a bargain to individual investors."
At the end of the second quarter, Ethereum's price dropped below the $900 mark — causing a market frenzy. However, Goldberg believes that the low price must have looked like a bargain discount to many optimistic investors who jumped at the opportunity to enter the market. A cheap ETH could have also opened the door for retail investors priced out of the network due to high gas fees.
Since then, ETH's price rebounded after breaking the $1,000 resistance and saw an increase of over 100%, nearly reaching $2,000 in August. ETH's price — currently at around $1,300 — still represents a solid opportunity for investors.
Researchers at BestBrokers noted that price volatility and high volume are the two main factors driving interest in the crypto market. This is exactly what Ethereum delivered in the past quarter, attracting millions of new investors and showing the potential to attract even more. Goldberg added:
"The 36% increase in the active users within just 3 months may be interpreted as a sign that the crypto markets are getting back on the positive trend. The fact that the number of active users is over 14% higher than in the fourth quarter of 2021 when both Bitcoin and Ether prices were at an all-time high, only reinforces crypto analysts' expectations that the markets have a great potential to rise again."
Posted In: Ethereum, Adoption